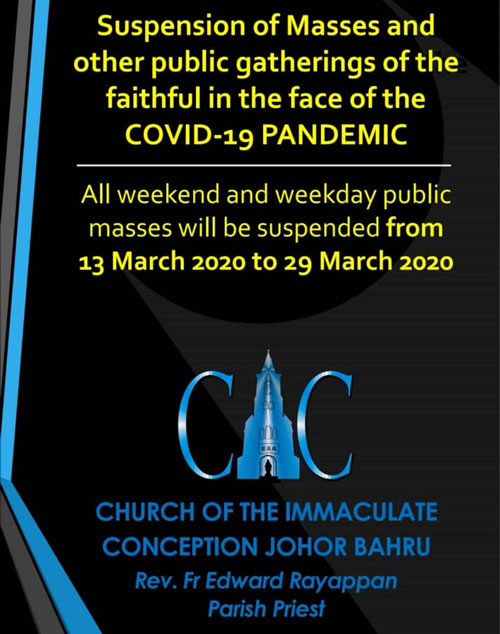 PASTORAL LETTER FROM THE CATHOLIC BISHOPS OF PENINSULAR MALAYSIA
DATED 12TH OF MARCH 2020
Our Parish Office will be closed from 18th March till 31st March 2020 and will resume as normal on 1st April 2020.
PASTORAL CARE FOR THE CIC, JB UNDER MOVEMENT CONTROL ORDER
Dated: 18 March 2020
We, the Priests of The Church of the Immaculate Conception (CIC JB) welcome you to our website. This historic and the oldest church of Johor Bahru was built in the year of 1927 by the late Rev. Fr. C. Saleilles, M. AP. The original church was built in the year 1883 and was named as "Our Lady of Lourdes". CIC JB is an active centre of Catholic life and prayer in the heart of Johor Bahru City. The Roman Catholic priests continue their tradition of preaching, personal instruction, sacramental life and pastoral care extending well beyond the geographical boundaries of Johor Bahru.
We hope that you will find in these web pages much to inspire you in your Catholic life and we warmly invite you to complement this virtual visit with a personal visit in the near future.
May God bless you and all those dear to you.